Help Us Bring Streetcars Back to NYC!
Would you like to have convenient and reliable transportation in Greenwich Village? Do you want to help reduce air pollution from trucks, diesel buses and automobiles? Do you prefer alternatives to the automobile for traveling? Do you favor auto-free space?
We believe that our proposal for a river-to-river light rail transit (LRT) line linking the East Village, West Village and Greenwich Village through the 8th St. Corridor would be beneficial for everyone who lives in, works in or visits Greenwich Village. Please explore our site by clicking on the Destinations at left and find out why you should join us in our cause by becoming a member of VCTC.
Click for tri-fold color brochure describing our proposal [PDF]

Streets for People: Traffic Calming in Community Board 2
With renewed interest in creating carfree streets in NYC, this report (from October, 1992) could be of interest.
Light Rail Transit Slide Show Available
VCTC would be happy to present a slide show to any New York City area organization about light rail transit in general as well as our specific proposal for a crosstown light rail transit line through Greenwich Village. For more information, please contact us by phone (212-475-3394) or by email.
Upcoming transit related events
11/17/2014–1/5/2015 vision42 [PDF]
Exhibition: The Durst Organization & chashama present the 4 semi-finalists for international design competition of proposals for a river-to-river auto-free light rail boulevard on Manhattan's 42nd Street.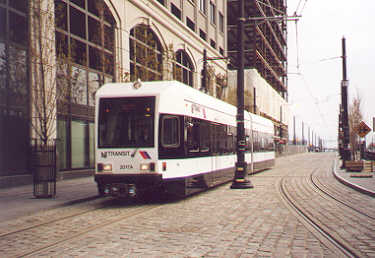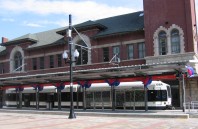 left: near Exchange Pl. station (Jersey City, NJ)
center: Broad St. Station (Newark, NJ)
right: Berlin, Germany