The 8th Street Corridor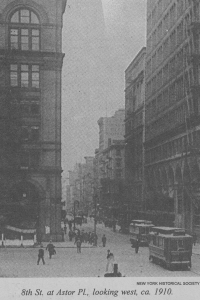 The 8th St. transit corridor traces its history to the Christopher & 10th St. Railroad, a horsecar line chartered in 1873 which ran from its East River terminal at the Greenpoint ferry to the D.L.& W. Hoboken Ferry pier. Until their demise in 1936, as many as 46 streetcars per hour carried thousands of daily passengers along the 8th St. route from river to river, with branches north to Central Park, south to Delancey St. and, for a few years, even to Brooklyn.
The 8th St. line ran its last streetcar on March 3, 1936, clearing the way for the crosstown bus and ever-increasing swarms of automobiles and trucks. The streets that are considered part of the 8th St. Corridor are (from West to East): Christopher St., 8th St., St. Marks Place and E. 10th St (click map below to enlarge it).

VCTC's proposal is to restore the river-to-river streetcar line that once existed through the 8th Street Corridor.